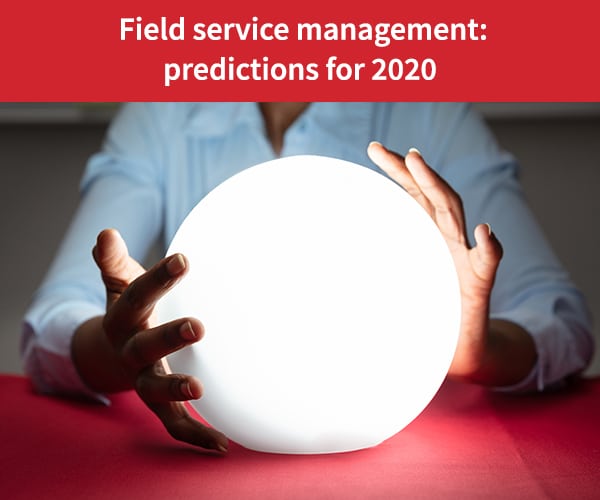 Maintenance
Artificial Intelligence
Customer Satisfaction
6 predictions for field service management in 2020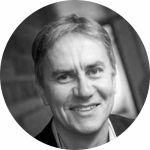 Xavier Biseul
Every year, people make predictions. This year, we can expect to see artificial intelligence and blockchain technologies mature and 5G technology emerge.   We'll also see a transition to more sustainable energy sources and a stronger focus on the employee experience.   Here's a closer look at what you can expect.
1. Predictive maintenance matures
Now that artificial intelligence is past the evangelization and experimentation phases, projects will enter the production phase. This evolution follows the Hype Circle, the well-known adoption curve for emerging technologies published by Gartner.   In field service management, artificial intelligence (AI) is expected to be primarily used in predictive maintenance, where the return on investment is most apparent. It's easy for manufacturers to measure the impact of not having to stop their production line.   According to a McKinsey study, predictive maintenance will save businesses $630 billion by 2025, cutting maintenance costs by 10 to 40% and reducing the number of failures by half. Extending the lifespan of existing equipment is expected to decrease investment in new equipment by 3 to 5%.   However, in 2020 manufacturers will have to overcome the challenges that arose during initial attempts at AI. In particular, this means having a sufficient quantity and quality of data. According to an article in the French Journal du Net, the diversity of machines and industrial protocols also presents pitfalls for large-scale deployments. The challenges that business line teams and IT teams have in cooperating is another obstacle.
2. Chatbots 2.0 take centre stage
Chatbots are another mature AI technology. These conversational agents assist people 24/7. When someone makes a request through a voice- or text-based interface, the software robot qualifies the request and sends it to the most relevant technician or provides first-level support by accessing a knowledge base to resolve the issue. This assistance relieves help desk personnel of repetitive tasks with low added value.   The first chatbots often didn't respond well when questions became pointed, leading to customer experiences that were disappointing, and even counterproductive. Like all self-learning, machine learning and deep learning technologies, it's essential to enrich the model and the new generation of virtual agents is delivering better performance. Conversations are more fluid and responses are more relevant.   Virtual assistants that provide their services through connected speakers benefit from larger screens in the latest models from Amazon (Echo Spot), Google (Home Hub) and Facebook (Portal). Artificial intelligence technology can offer captioned photos and images to assist users, for example to provide step-by-step guidance for resolving a technical issue.
3. 5G emerges
2020 will be the year that 5G emerges. By the end of the year, between five and ten French cities must be covered by the new standard for mobile telephony. 5G promises theoretical speeds up to ten times higher than those of 4G, very low latency — on the order of a millisecond — and network densification to support multitudes of connected objects.   There are a variety of use cases for 5G. In the factory of the future, 5G will allow the data generated by sensors on equipment that's being maintained to flow in near real time. The low latency enabled by the new standard will also allow drones that are used to inspect buildings and equipment to become more responsive and to operate more autonomously.   Technicians who are on-the-move can send large volumes of data to a remote expert several tens or hundreds of kilometres away. But existing mobile devices must be replaced. According to the research firm, Gartner, 5G-compatible smartphones will represent 12% of world sales in 2020.
4. Blockchain becomes "unchained"
Like AI, blockchain is reaching the industrialization stage. This is the technology that guarantees almost immediate transmission of transactions without a trusted third party. When the technology is applied to maintenance, it can be used to trace the entire lifecycle of a service call and the tasks completed by each party involved.   In 2020, new trusted ecosystems will be created. SITA, which provides IT solutions for the air travel industry, has just announced creation of the MRO Blockchain Alliance with other players in the aeronautics industry. MRO stands for Maintenance, Repair and Overhaul.   Blockchain technology will make it possible to digitally track and record the movements and maintenance history of aircraft parts when a large number of players are involved. This capability is particularly relevant for airlines, parts manufacturers, logistics specialists and maintenance providers.
5. Sustainable development is (finally) taken seriously
The countdown has started. According to Intergovernmental Panel on Climate Change (IPCC) experts, we have ten years left to very significantly reduce our carbon footprint to hold global warming to 1.5 °C. Field service management cannot distance itself from this unique issue in the history of humanity.   State-of-the-art field service management software allows maintenance companies to eliminate paper workflows and optimize technicians' routes to reduce the number of kilometres they travel. Since January 1, 2020, a new legal framework in France encourages maintenance providers to switch to electric vehicles.
6. Customer satisfaction comes from employee satisfaction
The French policy for corporate social responsibility (CSR) includes an environmental component. But, we must not forget that "S" stands for "social" or "societal". Ryan Lester, senior director of customer engagement technologies at LogMeIn, has noted that in 2020, companies will have to apply an essential to improve customer satisfaction: meet employee expectations.   Numerous studies have shown that the customer experience is closely linked to the employee experience. According to the "symmetry of attention" principle that was formalized by the French Acadamie du Service, employers must pay as much attention to their employees and they want their employees to pay to customers.   Improving well-being at work, taking feedback from the field into account and providing efficient tools are all part of this concept and HR directors will have to adopt a certain number of these types of initiatives this year.   It's an investment with measurable ROI. In addition to customer satisfaction, any initiative that strengthens technicians' engagement reduces turnover and absenteeism. It's a great way to reconcile the societal and business aspects of maintenance operations.