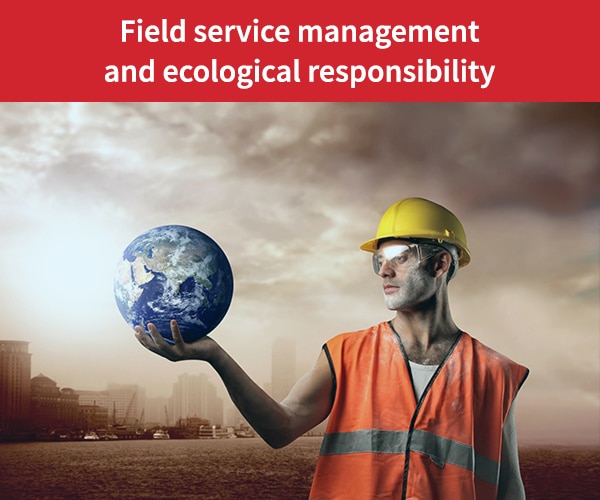 Mobility
Field Service Management
Technologies
Work orders
Reducing the carbon footprint of field service management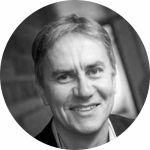 Xavier Biseul
May 7, 2019
Going digital, optimizing technicians' routes, using eco-friendly, hosted solutions…there are a number of initiatives that allow maintenance companies to help protect the environment.

Unfortunately, every scientific study released these days is similar in its view that global warming is accelerating. As we face what is perceived to be the greatest threat of the 21st century, there's a role for everyone in preserving the planet.

Corporations can help to protect the environment through a Corporate Social Responsibility (CSR) policy. Going digital contributes to these initiatives.

Although some non-governmental organizations (NGOs) have pointed out that new technologies are heavy polluters and energy-intensive, when they're used in the right way, technologies can help to reduce carbon footprint. It's a virtuous concept that applies quite well to maintenance services.
Adopt a zero-paper policy
Digitizing field service management allows service companies to completely free themselves from paper. They can digitize every type of document, from work orders to invoices, and use only electronic forms of communications for exchanges with customers.

Customers receive real-time notifications about the status of the service request. When the job is finished, they receive a summary email with an electronically signed report and photos of the completed work.

No paper is printed during the service delivery process. Technicians use their mobile device to access soft copies of drawings, data sheets and instruction manuals.
Reduce time spent on the road
The other easily measurable advantage of using digital technology is the ability to reduce the distance technicians travel. Service companies can use the geolocation capabilities in their vehicles to optimize technicians' routes so they spend as little time as possible on the road.

If there's an emergency, the dispatcher reroutes the technician who is closest to the service location. The technician receives real-time notifications about schedule changes on their mobile device so they can avoid unnecessary travel.

Bypass traffic jams
Technology also helps to avoid time spent in traffic jams. Some field service management software, such as Praxedo's, natively integrates navigational tools such as Google Maps, Waze, TomTom and Apple Maps to give technicians insight into traffic conditions.

Other digital tools help technicians avoid travel altogether. If technicians encounter a problem they can't solve, they can set up a videoconference with an expert back at the service center. To resolve the issue, the two can use a shared white board, and they can annotate and comment on visuals and graphics.

The instant messaging capabilities included in any good field service management software enables remote collaboration between experts and is less energy-intensive than sending multiple emails.

When spare parts are needed, technicians can use their mobile device to locate the nearest stocks. In the future, technicians may use 3D printing to "print" the spare parts in question right on-site.
Move to cloud-based shared infrastructure
The cloud enables all of this mobility, but that's not its only advantage. When service companies use their provider's shared infrastructure, they no longer have to manage and maintain their own premises-based servers.

Some shared infrastructure providers are committed to green IT. Praxedo's hosting partner, OVH, has managed to reduce energy consumption at its data centers by almost 50% by eliminating electricity-powered air conditioning. Instead, OVH has developed a system that uses the heat transfer properties of water to cool its servers.

This method of water cooling eliminates about 70% of the heat released by the servers. The remaining 30% is dissipated by natural ventilation in the eco-friendly buildings.

With the cloud, you can trade in fixed workstations for laptops and even more energy-efficient tablets. In the past, field service management software had to be installed on each computer, creating powerful resource demands. Software as a Service (SaaS) solutions move the intelligence to the cloud, reducing the strain on end-user devices.

BYOD decreases the number of devices
You can reduce the number of end-user devices required even further by implementing a bring your own device (BYOD) policy. When technicians can use their own device, they no longer have to juggle personal and professional devices, making sure both are charged. Using a single device also consumes less power.

According to a study by the French Nature Environment NGO, smartphones include 50 different metals that are difficult to recycle. Extracting these metals, especially rare-earth metals, also creates pollution — so much so that it's better to limit the number of high-tech gadgets.
Recycle electronic waste
While we're on the topic of recycling, maintenance companies can develop a process to recycle and recover electronic waste according to the Waste Electrical and Electronic Equipment (WEEE) directive, whether the equipment is defective or has reached end-of-life.

According to European Directives 2002/96 /EC and 2003/108/EC which became French law in 2005, companies are responsible for electronic waste if the products were on the market before August 13, 2005. For products on the market after that date, it's up to manufacturers to deal with the waste.
Optimize computer code
Finally, even field service management software design can make it a more or less eco-responsible solution. When computer code is optimized, the software can reduce the number of web requests it makes, reducing Internet traffic volumes as well as the amount of memory and storage required for the code to execute.

GREENSPECTOR, a French startup that specializes in eco-friendly software designs, has classified mobile applications for major media according to their energy consumption. It turns out that reading a news article from one online publication on a smartphone can consume as much energy as ready three articles from another online publication. In addition to the quality of the code, GREENSPECTOR also points out indiscriminate use of geolocation technology, videos, advertisements and notifications.