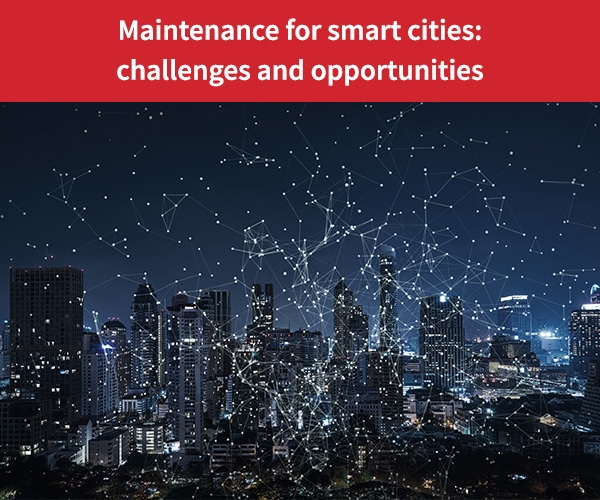 Maintenance
Internet of Things
Artificial Intelligence
Technologies
The maintenance services smart cities need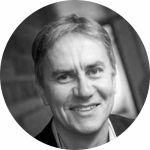 Xavier Biseul
Smart cities are loaded with sensors in urban infrastructure and street furniture. And they all need predictive maintenance.

As cities evolve to 5G and leverage City Information Modeling (CIM) technologies, the trend will grow. This is the city of the future.

The first step in making a city "smart" is to equip street furniture and infrastructure with multitudes of sensors so they can be connected. Bus shelters, lampposts, billboards, public benches, pillars and even garbage cans can potentially become "intelligent".

When coupled with artificial intelligence, this Internet of Things (IoT) paves the way for predictive maintenance that anticipates failures before they occur. City maintenance teams no longer have to travel around to identify an issue here and a lightbulb that needs replacing there. Instead, they can see the problem on their screen.

Predictive maintenance is based on a comparison of the real-time health state of the equipment and its history. By analyzing the performance gaps, it's possible to detect the early warning signs of problems.

If a part is showing worrying signs of wear, its replacement can be planned as soon as possible. Similarly, if a leak is detected in an energy distribution network, the appropriate authorities can be immediately alerted.

But, sensors aren't the only technology that can report information to municipal maintenance services. Some cities, such as Paris, have put QR codes on street furniture so citizens can simply scan the code from their smartphone to report a breakdown or damage and actively participate in the quality of public services.
The hypervisor is at the heart of the smart city
A hypervisor is like a control tower for a smart city and it's at the heart of the system. This supervisory cockpit gathers all of the data from the field and uses it to control the city's equipment and ensure coordination among city departments. To increase responsiveness, potential scenarios can be modeled in the system so it can operate in a semi-autonomous way.

Take a gas leak in a suburban neighborhood as an example. Every second counts. The hypervisor provides access to on-site surveillance cameras and traffic lights to reserve a lane for emergency services vehicles and facilitate management of field operations.

Strengthening cities' resilience
Fires, floods, earthquakes, heat waves, terrorist attacks, cyberattacks…the news reminds us that our cities are vulnerable. With climate change, demographic pressures, globalization and digital transformation, these phenomena are expected to multiply.

This raises the question of urban resilience, namely a city's ability to maintain essential services, even if only at partial capacity. The strategies outlined by the member cities of 100 Resilient Cities, a Rockefeller Foundation initiative, show that salvation for cities is very much digital.
Information modeling tools play a big role
5G is expected to be available as early as this year, and with its theoretical speeds of several gigabits per second and latency of less than a millisecond, it will drive further network performance improvements. For example, by increasing network coverage and extending it inside buildings, 5G will make it possible to deal with the explosion of communicating objects in smart cities.

With CIM, smart cities can also interact with private infrastructure because the model associates field data from the Geographic Information System (GIS) with data in the Building Information Modeling (BIM) system.

BIM creates a digital twin of a building. This virtual model makes it faster to detect breakdowns and reduces service time for technicians. CIM interconnects public and private infrastructure to improve information flows among all of the various stakeholders involved in smart city maintenance.

Even before the building breaks ground, CIM can be used to project it into its future urban environment to ensure, for example, that field service teams can quickly access the building. With CIM, these teams have all of the information they need to execute on their maintenance and repair assignments.

The potential for a "Google City"
Sidewalk Labs, a subsidiary of Google, is experimenting with what could be a "data-driven" city in a Toronto neighborhood — for better or worse. In this "Google City", multitudes of sensors record every movement in the neighborhood in real time. And artificial intelligence systems analyze behaviors and uses, giving substance to the dream (or nightmare) of a city entirely administered through data.
Angers and Dijon are on the road to becoming smart cities
In France, projects are managed by local governments. By putting a priority on data collection, they guarantee respect for citizens' privacy. The city of Angers, which aims to become the most intelligent area in France, has launched a particularly ambitious project. Last November, the city awarded a contract estimated at 178 million euros over twelve years to a consortium led by energy company, Engie, and including water and wastewater company, Suez, French postal company, La Poste, and the insurance company, Groupe VYV.

According to media reports, 50,000 sensors will be installed throughout the Angers area to manage lighting, water, waste, parking, mobility, health, utility consumption in public buildings and video surveillance. With more efficient management of resources, the Angers Loire metropolitan area and the city of Angers are counting on saving more than 101 million euros over 25 years.

Dijon is another smart metropolis. The first stage of its digitalization project, called OnDijon, focused on creating a single command post to manage urban infrastructure in the 24 municipalities that comprise the territory: traffic lights, public lighting, video surveillance cameras, road services …

In the next phase, a unique platform developed by Citelum and called Muse, will allow city staff to access information about the urban heritage of municipalities, plan maintenance operations more effectively and keep their partners informed about the progress of their work.

Identity cards for city infrastructure
Each piece of infrastructure has an identity card with its geolocation and history. If there's a malfunction, city staff are notified and can expedite service. Teams in the field receive a summary of the tasks to be completed on their tablet and send a notification once the work is completed.

The reports and analyses the platform produces will also help to optimize equipment operation. For example, lighting along roadways may be reduced depending on traffic levels. The move to LED lighting alone is expected to generate more than 65% energy savings over 12 years.