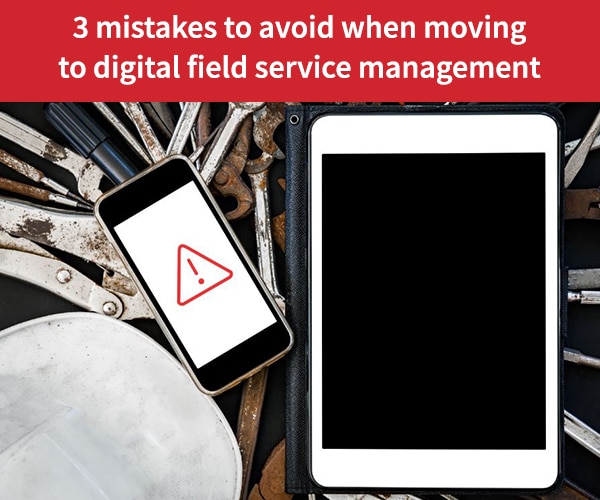 Field Service Management
Software
Optimization
Software
Deploying field service management software: 3 major mistakes to avoid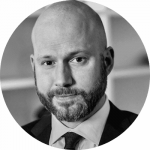 Kieran Le Peron
In today's super-competitive economic environment, moving to digital operations is no longer optional for service companies. The era of paperwork and Excel spreadsheets is over. Specialized technology solutions are essential to meet increasingly demanding customer requirements. The best place to start is with field service management software. With the right software solution, you can better monitor and manage your field technicians. And you can provide more responsive and reliable service to your customers.   However, the transition from paper processes to digital operations is not risk-free. Any number of mistakes can jeopardize deployments, affecting dispatch and field team operations. Here are 3 major mistakes to avoid as you deploy field service management software.
No defined strategy
As more and more businesses transform to digital operations, the world of service is rapidly evolving. Technology innovations ranging from artificial intelligence, sensors on equipment, the Internet of Things, augmented reality and virtual reality all allow service professionals to increase productivity and profitability, and to respond faster and more effectively to customer requests.   However, integrating any of these new technologies too quickly, and without a solid business strategy that considers the overall impact of the change, can create a number of problems in companies that are used to working in old-fashioned ways.   Completing a preliminary audit of your processes and computer systems is very important because it provides a global view of how your field service management cycle works. This insight will help you avoid last-minute changes in direction that could result in costly technical redesigns. For example, if you decide to deploy field service management software, you need to consider the features it provides as well as how it can be integrated with your enterprise resource planning (ERP), customer relationship management (CRM) and billing systems.   If you want to set up a predictive maintenance system, you need to choose a solution that can take advantage of the Internet of Things so sensors on your customers' equipment can send data to your computer system and your technicians' mobile devices.   For service companies, going digital is not just about moving away from paper. It's also about using smartphones and tablets in the field. To save money down the road, you need to invest time, thought and money up front. You can't go into it blind or improvise along the way. You need a well-thought-out and comprehensive strategy before you start transitioning to digital operations.
No involvement from technical teams
Thinking you can deploy field service management software without involving your technicians in the thought and selection process is a huge mistake. Your technicians are on the field every day, and are in direct contact with your customers. They're the ones who are most likely to get information, questions, complaints and comments from customers. And going digital is a major step toward increasing customers' satisfaction with your services. Your technicians are a key link between you and your customers as you determine how to best manage the life cycle of your services.   To develop your field technicians' skills, help the work more efficiently and enable them to resolve customer issues faster, you must give them the right technologies and tools. They must be able to easily and intuitively access company information about customers, equipment, additional service offerings and other key details. When technicians are well-equipped for the job, they can complete tasks more efficiently and effectively, benefiting your company and your customers. With the right solutions in place, technicians can increase first-time fix rates. And they will feel more comfortable while carrying out their tasks at customer sites.   Going digital at a service company is a major change that must involve technicians. You can use their customer insight and expertise to help develop your specifications before you start evaluating potential solutions. If you have a lot of field technicians, set up a focus group that combines younger, older, junior and senior technicians. Have the focus group participate in preliminary discussions about how the ideal solution would help them execute job tasks and address the customer feedback they receive daily.   This insight will make it easier to choose a solution that matches very specific needs. Ideally, you will then have the opportunity to test potential solutions with a working group, compare functionality and evaluate performance in the field before engaging a particular vendor.
Lengthy delays in going digital
Widespread digital transformation in a company brings new ways of doing things, new capabilities, new business models and new opportunities. The field service industry is no exception. The most innovative players are shaking up established ways of operating and changing the game in terms of customer service.   This shake-up is exactly why service companies must rethink their service management processes and take advantage of the opportunities that digital operations enable. Those that don't take this step risk being overtaken by more dynamic and agile competitors.   If your company is not already on the path to digital operations, now is the time to start looking at solutions that will help you optimize field service management.