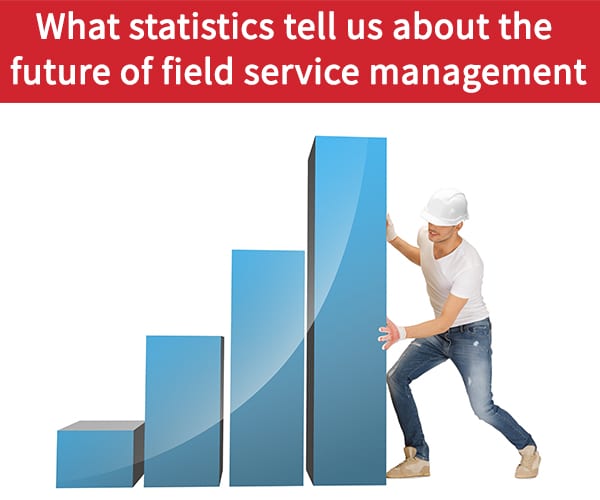 Maintenance
Field Service Management
Technician
Work orders
What statistics tell us about the future of field service management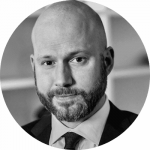 Kieran Le Peron
I've been thinking back to a blog posted last fall by Capterra, an American company that helps businesses compare software products.

I think this particular blog has stayed with me over the months because the statistics it provides paint a very interesting picture of the field services industry today and how we can expect it to evolve over the next few years.

As a company that develops field service management software, it's important that we understand industry trends and the role technology plays in those trends so we can better anticipate our customers' needs.

I'll let you read the Capterra blog post yourself to get all of the numbers and insight, but here are three key messages that stood out for me.
1. Field service management software will no longer be optional
It's kind of hard to believe, but just over half of field service management companies still rely on paper and pens to manage their field operations.

However, the numbers also tell us that:
Scheduling and dispatch will account for the largest market share of the expected growth between now and 2022
Small service companies consider productivity software to be their top priority for tech budgets
More field service companies are realizing the benefits of focusing on the service aspect of their business
These evolutions mean more and more field service companies are realizing that using software to manage and optimize everything from technician schedules and travel routes to customer history, parts inventories and billing processes is essential to keep productivity and profits high and costs down.

There's a first-mover competitive advantage
With software that enables optimized and paperless operations, technicians spend less time traveling, can serve more customers and have the insight needed to ensure they have the right tools and spare parts on hand to fix problems on the first visit.

Office staff can also work more productively. They no longer have to deal with stacks of paper, printers or ink cartridges, chase down missing information, or waste time re-entering information into business systems.

With these productivity benefits, field service management software is clearly a major competitive advantage. As a result, it's no longer a question of whether service companies will start using this type of software to manage their operations, but when. Those who move soonest will have the greatest advantage.
2. Field service companies will increasingly rely on mobile apps and automation
From mobile apps for technicians to artificial intelligence (AI), technologies that help to accelerate and simplify operations in the field and in the office will become increasingly important for companies that provide field services.

Mobile technicians need mobile apps
By 2020, mobile apps such as the one offered by Praxedo, will be used by most field service management companies. It makes perfect sense. Mobile technicians need tools that are designed to support the nomadic nature of their job.

Mobile apps increase technician productivity and customer satisfaction in a number of ways. While still in the field, technicians can:
Complete electronic service reports and send the information directly into business systems
Review service history to accelerate problem diagnosis
Check spare parts inventories, reserve parts and place orders
Accept electronic signatures on purchase orders and delivery confirmation forms
Consult with remote experts using voice, text or video
Access technical documents and user manuals from anywhere, even when offline
AI automates time-consuming manual tasks
AI is newer technology that will play a bigger role in the coming years. With AI, algorithms can be used to prioritize and schedule emergency service calls and to plan predictive maintenance timetables that ensure service occurs right before failures are expected.

To develop accurate predictive maintenance schedules, AI algorithms will analyze large volumes of data ranging from customer history to data from devices connected to the Internet of Things (IoT).

Praxedo's SmartScheduler already uses AI to automate vital scheduling tasks.
3. Technicians will become an increasingly rare and valuable resource
The stats in the Capterra blog also reinforce a fact we've written about before: there's a shortage of field service technicians and the problem is only going to get worse as millions of today's technicians retire.

The good news for technicians who are just entering the market, or who won't be retiring any time soon, is that their job outlook and pay prospects are bright, particularly for those in the heating, ventilation and air conditioning (HVAC) and energy industries.

The right technologies help to attract and retain technicians
With the competition for talent, field service companies must develop strategies that will help them retain their best field service technicians and attract new talent.
Again, technology can help.

Mobile apps that are extremely easy to use simplify and accelerate tasks for all generations of technicians, even those who didn't grow up using technology. They also help to attract the new generation of field technicians. These tech-savvy technicians are used to leveraging mobile technologies and apps in almost every aspect of their lives.

As a result, they expect their employers to provide them with access to technologies and tools that help them increase efficiency and productivity.

Training content and learning opportunities that can be accessed on mobile devices also go a long way toward helping your technicians feel more fulfilled, confident in their abilities and appreciated.
Stay in the know
To get all of the stats, check out the Capterra blog post, "10 Field Service Statistics to Keep you in the Know".