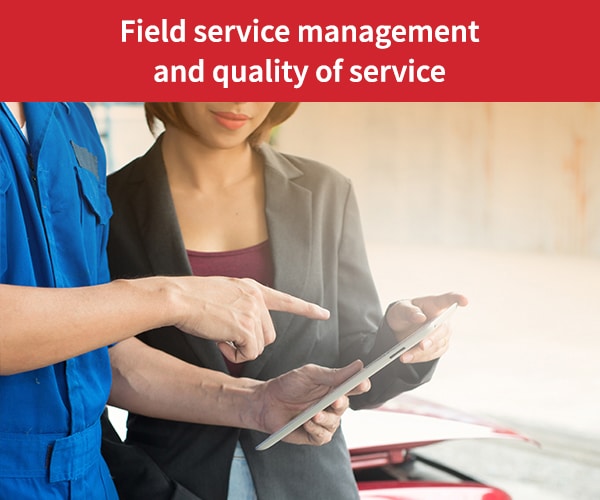 Field Service Management
Productivity
Customer Satisfaction
Productivité
Customer satisfaction
Work orders
Field service management: how to deliver optimal quality of service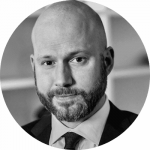 Kieran Le Peron
The world of service is increasingly competitive. Whether you provide installation, after market service or maintenance, your customers are always demanding more. The slightest mistake or disappointment can be fatal, resulting in a lost contract.   Only companies that can differentiate themselves by offering superior quality of service will survive and gain market share. The others will likely decline at varying rates.   The key is to ensure your company will choose the right path and win the race. Here's how to improve the quality of service you deliver to your customers each day.
Offer additional services
To start, drop paper forms, Excel spreadsheets and, worse, those service boards that are covered with old index cards. Do yourself a favour: go digital. Field service management will give your technicians the opportunity to deliver better service.  
Juggle emergency and recurring service requirements
With geolocation capabilities and smart scheduling software, you can assign the right jobs to the right technicians, in the right place, at the right time. Customers who are dissatisfied because you don't have anyone available to provide service within the next hour will be a thing of the past. You can reroute the nearest technician — the one with the right spare parts and skills — to drop by as quickly as possible between two other appointments. With field service management software, you can easily juggle emergency responses and recurring maintenance. That juggling is a lot more complicated with an Excel spreadsheet …  
Add one more service call every day
With field service management software, you can improve technicians' productivity and enable them to complete one or more additional service calls each day to generate more revenue for your business.  
Better customer knowledge = additional service sales
Finally, with field service management software and the corresponding mobile app for technicians, you can put all of the necessary customer information, service history and equipment details right in their hands.   Most importantly, you put technicians in an ideal position to offer additional services to customers, bill them for spare parts, or simply offer a new product. Once again, if you're still at the paper stage, it will be almost impossible for technicians to execute on these very lucrative business opportunities.
Move to more precise service scheduling
Managing travel times and response times sets the best service pros apart from the rest. Put yourself in a position to precisely control service schedules.   Again, if you're using paper or managing technicians using an Excel spreadsheet and shared Outlook agendas, you're far, far from the level of organization required to differentiate from the competition. In fact, you're on the wrong side of the road, headed in the wrong direction …   To get to the other side, you need field service management software. It will help your organization operate more professionally internally and externally in your dealings with customers.  
Track performance
Well-designed field service management software allows you to track technician arrival times at customer sites and gives you insight into the resolution times required by each technician. It also allows you to create dashboards that summarize statistics and key performance indicators (KPIs) for each service call based on targets and activities you define.  
Respect contractual commitments
You'll have a comprehensive and detailed view of service performance so you can track productivity over time, and improve your response times.   This is vital data for a service company that wants to thrive. It allows you to maintain a near-real-time view of how you're performing in relation to the guaranteed service times and problem resolution times defined in customer contracts.   Field service management software also gives you at-a-glance insight into which service calls are completed and which are invoiced to help you avoid losing money on service calls that aren't billed. It's a phenomenon that affects service companies all too often.   Ultimately, if you want to offer customers an optimal experience that goes off without a hitch in a seamless way and have a head start over the competition, there is no alternative.   You must have field service management software.   Today, you can choose from among a wide range of solutions to find the one that best fits your business goals and needs. But, don't forget that field service management software will also allow you to remain in a leading position and benefit from the latest technology innovations to increase quality of service and financial turnover. And, the story's not over: artificial intelligence, the Internet of Things and augmented reality are also coming into the service scene. The innovation train is in the station. Don't let it leave without you!