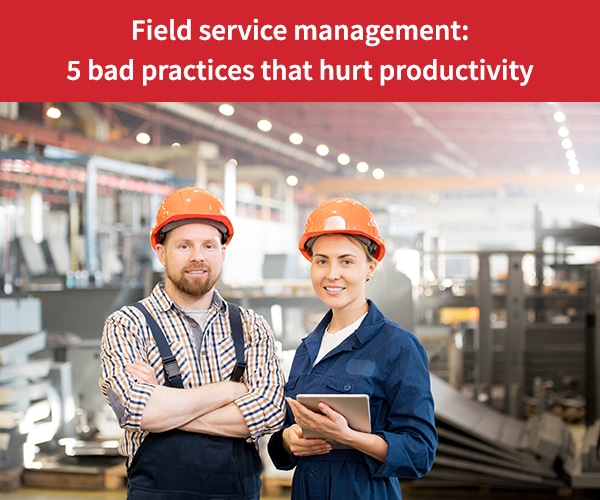 Field Service Management
Optimization
Customer Satisfaction
Work orders
Field service management: 5 bad practices to abandon in 2020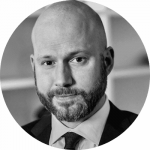 Kieran Le Peron
The beginning of the year is always a time for resolutions. But this year, you're going to stick to all of them. You'll get a gym membership, quit smoking, eat red meat only once a week, pick up your kids from school at least twice a week…   This is all great, but what about your service business? You should do the same thing — start 2020 by ditching the bad habits and bad practices that are hindering business growth.   It's time to resolve to optimize field service management. To stick to your resolution, here are 5 bad practices you'll need to abandon in 2020.
1. Manual service scheduling
We just left 2019 behind, a year in which we celebrated the 50th anniversary of man's first steps on the moon. And you're still creating your technicians' schedules by hand. See the problem? Scheduling field service activities by hand is complex and time-consuming. If you keep it up, you'll never be able to become fully responsive to your customers or fully efficient in monitoring your field operations.   When you're trying to manually create schedules that combine recurring maintenance and emergency service requirements, consider technicians' availability, travel times, and skill sets for the job, and check spare parts availability, the task quickly becomes very tedious, if not impossible.   You need field service management software that automates service scheduling, allocates the right resources for the job, and does all of the hard work for you. This will allow you to focus on what really matters for business growth: customer satisfaction. That's why this is the first of the 5 business resolutions you need to keep in 2020.
2. Paper service reports
For technicians, nothing is more boring than filling out pages and pages of field service reports, whether they're at the customer site, in their vehicle, or at home. They don't like this part of their job.   Paper service reports are also a pain for admin staff who are responsible for invoicing. Technicians give them the reports once or twice a week on average, so there's always some amount of delay since the service was completed. Also, because technicians are not writers at heart, their reports are often written in a rush, illegible, incomplete, or sometimes missing altogether because they were lost on the road. Then of course, there's the task of manually re-entering all the information into the computer system.   In terms of billing deadlines, the need to process paper reports creates a bottleneck that lengthens the time between service call completion and invoicing the customer. There's no money coming into corporate coffers during this period. So, the second good resolution for 2020 is to simply drop paper service reports and go digital. Everyone wins:
Technicians enjoy their job more
Admin staff can accelerate their tasks
Customers have a complete report of all activities carried out on their premises
Your business benefits from better cash flow because invoices can be sent the same day service was provided
3. No mobile app for technicians
In an industry that based on maintenance technicians who are always on the move, it's unthinkable to not give them a mobile service application to improve their productivity and efficiency. A mobile application, such as the one offered by Praxedo, gives maintenance technicians one-click access to their schedules and to all of the information they need to properly understand their upcoming tasks.   It's very important for technicians to have real-time access to information about their service calls so they're always aware when jobs are cancelled at the last minute or rescheduled. It's equally important that they can respond effectively and quickly to emergencies and unexpected events that can occur at any time.   Also, don't forget that a mobile application allows you to keep your technicians and your service centre permanently connected, making communication much easier. So, if you haven't done so already, your third resolution should be to equip your technicians with a mobile application that's been specifically designed for their job.
4. Internally-developed field service management software
You're a service business. Your job is field service, not software development. Invest in your business, and don't waste your money trying to develop endless home-baked solutions. It's a waste of time and money. Instead of trying to reinvent the wheel, get in touch with companies that develop specialized software, such as Praxedo. They've already invested in creating software that's tailored for your industry. And a little advice: choose a cloud solution rather than software you install on your local servers.   The advantage of the cloud is that you can use a password to access the software from anywhere, at any time. Even if your premises burn down, it's not a problem because all of your fields service activities are stored in your cloud solution.   Another advantage of a cloud solution is that you won't have to worry about updating the software. There's no need to hire an IT expert to keep your software running. To optimize costs and get the most from your investments, work with specialists. Don't try to do it all yourself. This is a great fourth resolution for 2020.
5. Leaving customers in the dark
Today, most of your customers very likely rely on benchmark services such as Uber or Amazon. With Uber, people have a real-time view of where their driver is in relation to their location. With Amazon, as soon as their order is taken, people start receiving progress updates about the delivery status for the package right up until it arrives at their doorstep. It only makes sense that expectations for service technicians are the same.   Your customers are used to receiving clear and specific communications. Quality of service requirements are much higher today than they used to be. You can no longer afford to leave customers in the dark by telling them the technician will arrive sometime between 8:00 am and 2:00 pm.   Instead, you need to leverage field service management software that allows you to use text messages and email to let customers know in real time when technicians will arrive, if there are any delays and how service activities are progressing in cases where customers aren't on-site themselves.   This is a good fifth resolution that will help you increase customer satisfaction levels in 2020.