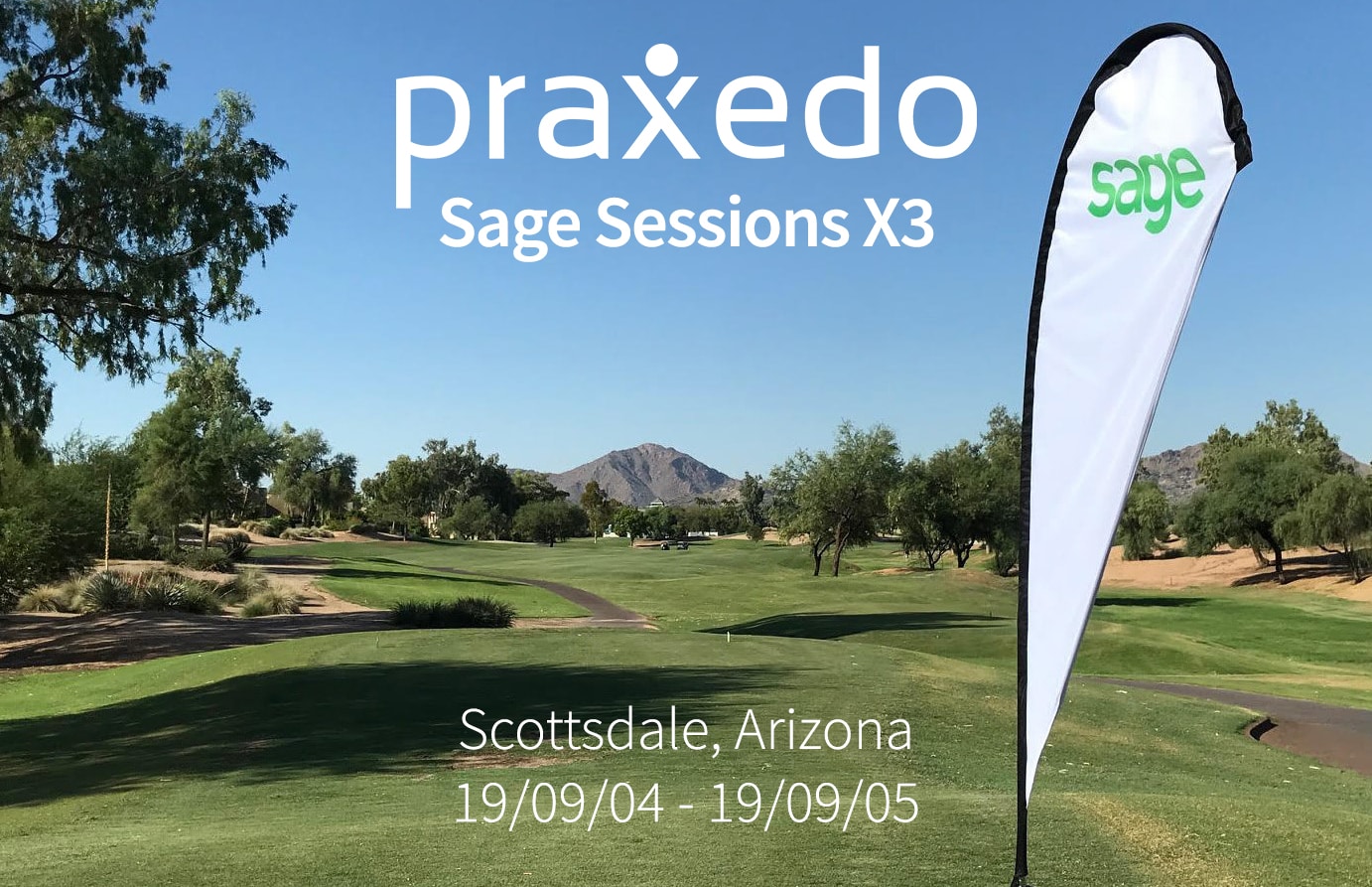 Praxedo at Sage X3 Sessions in Scottsdale, Arizona.
On Sept. 4-5, 2019, the X3 Sage Sessions took place in Scottsdale, AZ, the can't miss event for Sage X3 ERP customers and partners.
 
Praxedo, Sage ISV Champion, was present with his North American team to present their new connector for Sage X3 and to meet and exchange with Sage people, other partners, integrators, resellers, ISV, etc.
 
The event was exclusively dedicated to the Sage X3 platform.
A unique Opportunity to Learn, Exchange and Make Connections at the Heart of the Sage X3 Ecosystem
The event was held at the Hyatt Regency Scottsdale Resort & Spa at Guiney Ranch and began the first day with an activity choice of either a golf tournament or a fitness class followed by a Women in Leadership seminar.
 
The rest of the time was spent to exploring the future of Sage technology and the complete capabilities of Sage X3 Version 12: exciting keynote presentations, deeper learning of Sage solutions, complementary ISV offerings in the Sage Product Showcase, and enjoying evening receptions and entertainment!
On the exhibit floor, attendees were able to find out more about Sage X3 partner solutions, providing extended functionality to the ERP.
Praxedo, Field Service Management software connected to Sage X3
A high number of attendees were seen at the Praxedo booth where you could meet the Praxedo team and attend presentations and demonstrations of the Praxedo Field Service software connected to Sage X3.
 
Praxedo offers an out-of-the-box connector with Sage X3 that facilitates data exchange between both solutions. The connector is dedicated to service or manufacturing companies that have teams of field technicians managed by a dispatch or coordination office.